[Bez tytułu]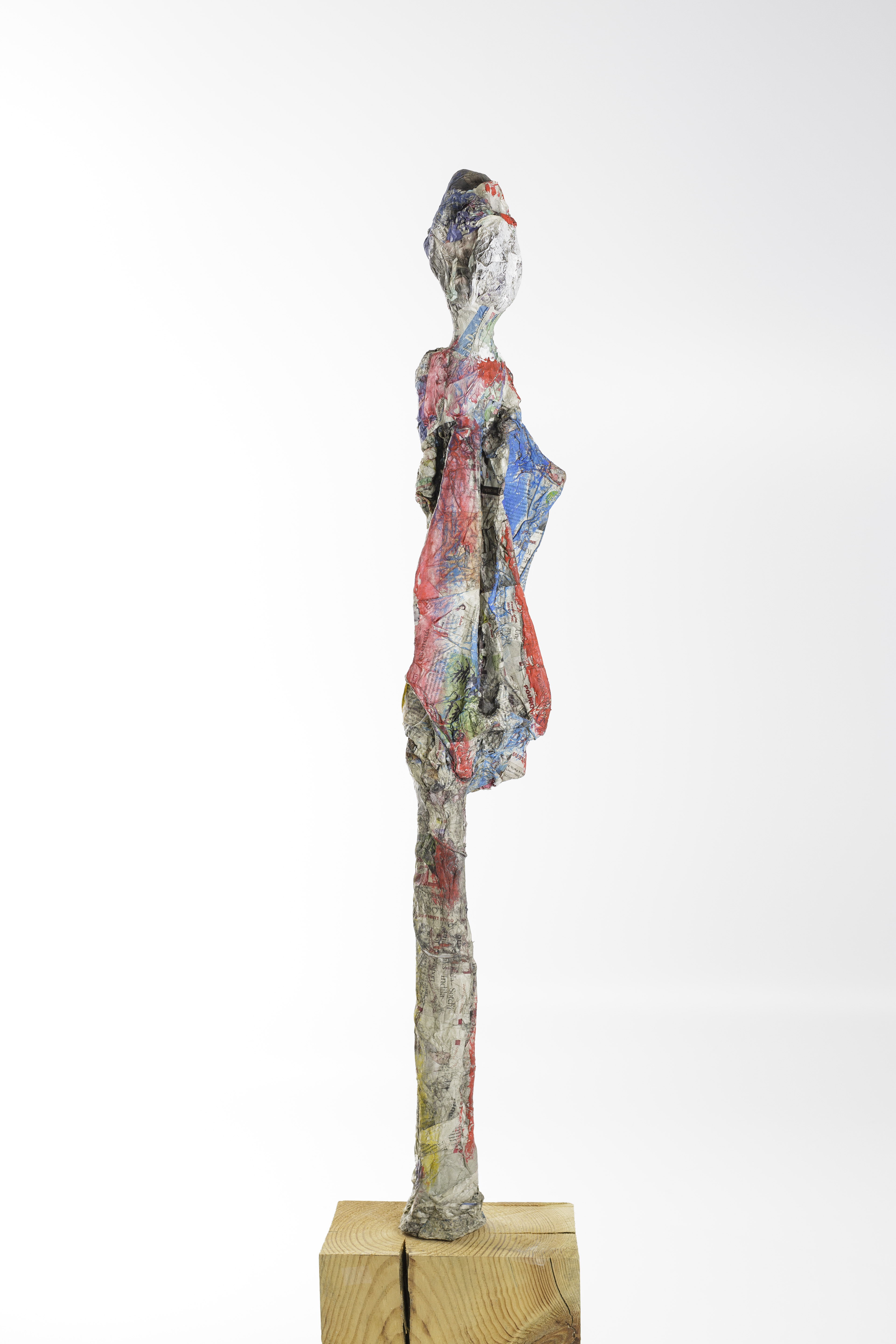 Typ obiektu
sztuka papieru
Fabric
papier-mache, papier czerpany mielony z klejem, pigmenty
Technique
własna
Size
100 x 18 x 18 cm
Author
Bilan, Ryszard
Place of creation
Polska, Muzeum Papiernictwa w Dusznikach-Zdroju
Time of creation
2014
Inventory no
MD 3135 A

(Polski)

Obiekt uformowany z papier mache przedstawiający ludzką postać umocowaną na drewnianym postumencie. Tworzywo, z którego wykonano obiekt, nasączone jest wielobarwnymi pigmentami.

Przejścia z białych form do rzeźb kolorowych są naturalną drogą rozwoju plastycznych kreacji, kiedy monochrom papieru ewoluuje w kierunku bogatej chromatyki, z całym wachlarzem pigmentów.

Sławomir Urbański (Krytyk sztuki): "Stwory z bajek, groteskowe postacie zaczerpnięte jeszcze z kłodzkich (!) lat dzieciństwa, upiorki, duchy czy kompozycje nawiązujące do stalagdytowych (stalagmitowych ?) grot stanowią elementy życiowej opowieści Ryszarda Bilana. Medium technologiczne jakim jest papier czerpany nie jest dla Bilana zwykłym materiałem twórczym, gdyż papier w jego rękach zostaje uduchowiony i stanowi nobliwą MATERIĘ (…)"

Ryszard Bilan, ur. w 1946 r. w Krakowie, dzieciństwo i młodość spędził w Kłodzku. W 1960 r. rozpoczął naukę w Zasadniczej Szkole Zawodowej Przemysłu Szklarskiego w Szczytnej, gdzie pobierał nauki rysunku u Witolda Turkiewicza i Zbigniewa Horbowego. W 1969 r. wyjechał do Izraela i rozpoczął studia w Akademii Sztuki i Projektowania Betzael w Jerozolimie na Wydziale Grafiki Użytkowej. W 1974 otrzymał 2-letnie stypendium rządu francuskiego do L' École Nationale Supérieure des Arts Décoratifs w Paryżu, gdzie pobierał nauki pod kierunkiem m.in. Marcela Floriniego i Ives'a Heude.